Going to Ireland soon and wondering what are the traditional Dublin food and drinks? We are here to help!
Ireland is a country with a rich history and culture. If you know a tiny bit about Irish history, you may have heard of the potato famine. Let me reassure you straight away, these days are long gone and Irish food goes much further beyond potato dishes.
Irish food has been influenced by many different cultures and historical events over the years, resulting in a unique and delicious cuisine. Some of the most popular Irish dishes include stew, bacon and cabbage, and fish and chips.
If you are visiting Dublin, then there are a lot of dishes and drinks you should try.
In this article, we tell you everything you need to know about food in Dublin. This includes which dishes and drinks you should try but also some restaurant recommendations.
Please note that while we focused on food from Dublin, we also includes staples from Irish cuisine so you get a better idea of what the real taste of Ireland is!
Disclosure: This post may contain affiliate links, meaning I get a commission if you decide to make a purchase through my links, at no extra cost for you!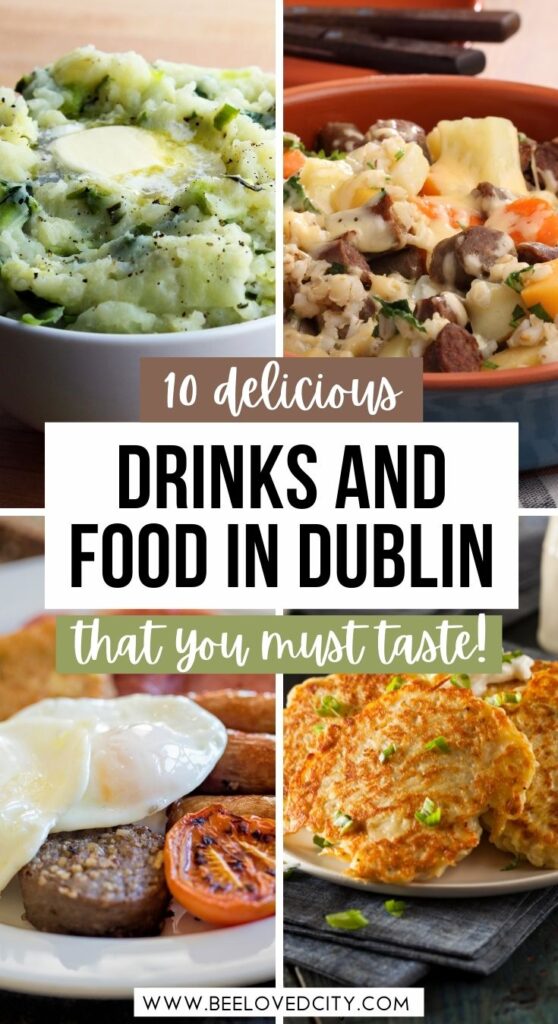 Coddle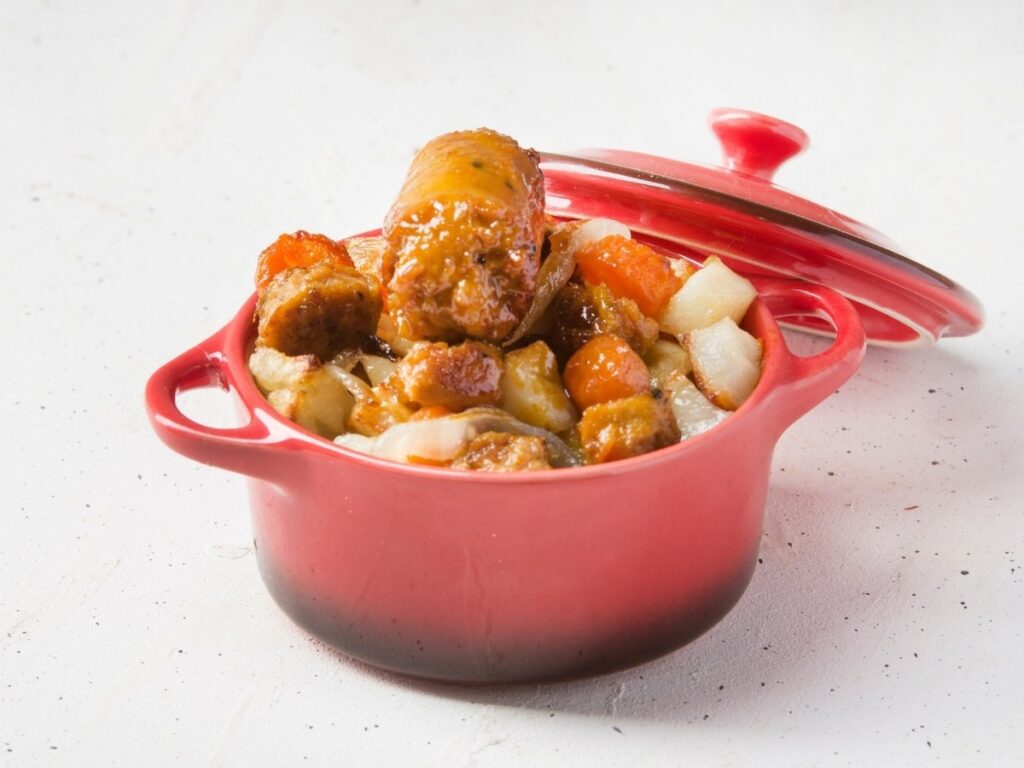 The Coddle is a speciality from Dublin and is sort of a peasant dish.
It was originally made to use up leftovers (which is how the best dishes in the world have been invented).
There isn't a specific recipe to it but it traditionally includes sausages, rashers, potatoes, onions and herbs.
Traditionally, this dish was made on Thursdays to finish up all the remaining meat of the week.
The Irish being Catholics, they were not allowed to eat meat on Friday.
Dublin Coddle also sometimes include Barley which is a rather popular ingredient here in Dublin. As you know, that's what is used to make Guinness!
WHERE TO EAT CODDLE IN DUBLIN?
Here are a few restaurants and pubs in Dublin that are particularly well known for their delicious coddle:
John Kavanagh The Gravediggers
The Hairy Lemon
The Quays Temple Bar
Guinness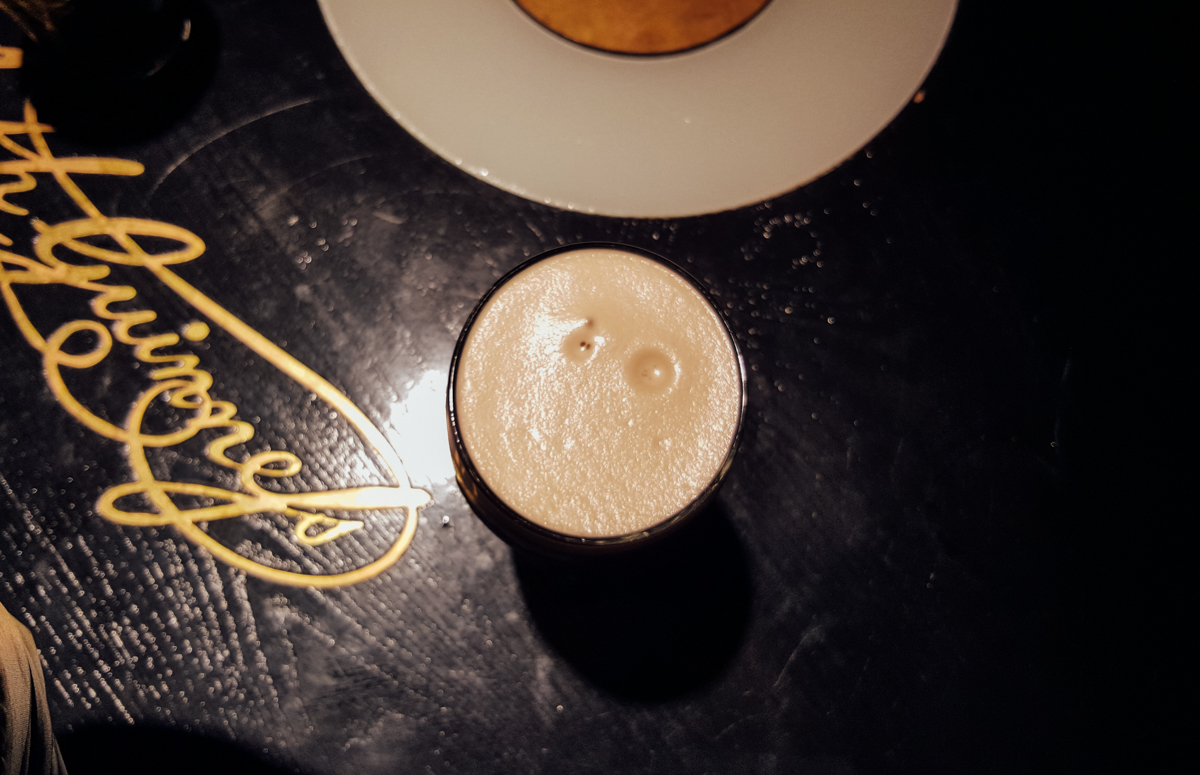 When it comes to famous drinks from Dublin, Guinness sets the standard!
Guinness is one of the most popular drinks in the world, and it is an Irish icon.
It was first created in Dublin in 1759 by Arthur Guinness.
Guinness is a dark stout made from barley, hops, water and yeast. The final product is a thick, black beer with a malty flavour and a slightly bitter taste.
Guinness is now available in over 150 countries and is one of the most popular beers in the world. In Ireland, it is almost considered a national drink!
As a visitor, not only getting a pint of Guinness is a must-do in Dublin but you can even make that experience better, by visiting the Guinness Brewery!
Located in the centre of Dublin, at St. James Gate, the Guinness Storehouse is one of the most famous attractions in the city.
This place has a pretty incredible history since the lease for this brewery was signed by Arthur Guinness himself! At the time, he made the crazy bet to sign a 9000-year lease!
Obviously, since prices have increased a lot in the space of 3 centuries, this is now an amazing deal for Guinness. They are still paying the initial rent which is of £45 per year! Isn't that a great fun fact about Dublin?
But let's get back to the main topic! The Guinness Storehouse consists of 7 floors of exhibitions and activities. It's such a fun place to discover and they will even teach you how to pour your own Guinness!
If you wish to visit the Storehouse, make sure to book your ticket in advance. They sell out rather quickly.
Click here to see the latest prices.
Barmbrack
This is a sweet cake made with bread with added sultanas and raisins.
Often shortened to brack, the name comes from the Halloween Brack that used to contain various objects.
This dish is now associated with Halloween.
A ring is generally placed in the bread and the person who receives it is considered to be fortunate (exactly like the "Galette des Rois" in France for example).
FUN FACT: Halloween is actually a Celt celebration and was imported to the United States by Irish immigrants. This is why it became so popular over the pond but yes, it is an Irish celebration!
WHERE TO EAT BARMBRACK IN DUBLIN?
Here are a few bakeries in Dublin that are known for making delicious Barmbrack:
The Butler's Pantry
Green Door Bakery
The Firehouse Bakery
Colcannon
The Colcannon is a typical Irish dish is made of mashed potatoes with kale or cabbage.
This dish is generally served for Halloween and is fairly ancient.
Invented in the 18th century, after the introduction of potatoes in Europe, it is the perfect mix between ancient Ireland and modern Ireland.
It's a simple dish but it's excellent! It is also a great option if you were looking for vegetarian Irish food in Dublin!
That having been said, Colcannon is not always vegan since some cooks add milk or butter. Make sure to check with the waiter before ordering if you wanted it to be vegan.
WHERE TO EAT COLCANNON IN DUBLIN?
Since the Colcannon is a Halloween dish, you won't always get to find it on menus if you are not visiting in Autumn however, some Irish pubs in the centre of Dublin serve it pretty much all year round.
Gallagher's Boxty House
The Hairy Lemon
Soda bread
When it comes to traditional Dublin food, Soda bread is definitely one of the most famous.
Soda bread is a quick bread that uses baking soda instead of yeast to leaven.
This authentic bread has become a classic of the Irish food scene and the recipes are passed from parents to the child for generations.
You can find it in literally every bakery in Dublin (and around Ireland in general).
The brown Soda bread is particularly good with smoked salmon. The Brown Soda Bread – Smoked Salmon combo is pretty much to Ireland what the cream cheese smoked salmon bagel is to New York!
You can also find some more modern versions made with Guinness, walnuts or herbs.
WHERE TO EAT SODA BREAD IN DUBLIN
The best places to get soda bread from are traditional Irish bakeries such as:
Bretzel Bakery
Bread 41
The Bakery Temple Bar
Irish Stew
If there is one thing you can not leave Dublin without having done it would be eating an Irish Stew. This Irish food classic is the last of our list but definitely not the least.
It's made with a mix of leftovers including lamb, onions and potatoes (and sometimes even Guinness!)
Although adding Guinness is not part of the original recipe, we would recommend giving it a try if you want the full Irish experience! In Dublin, you can find a Beef and Guinness stew at the Guinness Storehouse.
The Stew was originally created because farmers would keep their sheep into old age for their wool and milk, therefore the meat of the mutton was less tender and needed more time to cook.
WHERE TO GET AN IRISH STEW IN DUBLIN?
Finding an Irish Stew in Dublin is one of the easiest things in the world. Most pubs will have it on the menu, especially on Sundays.
But here are a couple of places in Dublin that are famous for their delicious Irish Stew:
O'Neill's
The Brazen Head
Arthur's Pub
Jameson Whiskey
Who says Ireland, says Whiskey! And if you are looking for traditional Dublin drinks, then there are a few single malts that need to be mentioned.
Amongst the most famous whiskeys from Dublin, you'll find Jameson.
Jameson Whiskey is one of the most popular whiskeys in Dublin and Ireland. It was founded in 1780 by John Jameson and is now a subsidiary of Pernod Ricard. The whiskey is now made at the Midleton Distillery, which is located in Cork, but the original distillery is still located in Dublin.
You can even visit it if you want to! This is one of the most popular attractions in the city and if you love a good whiskey, then this is for you!
Located on Bow Street, the Jameson Distillery offers fantastic visits and a great insight into the culture of whiskey in Ireland.
If you are interested in visiting, make sure to book in advance. You can also book a combo ticket with both the Guinness Storehouse and the Jameson Distillery. See prices here.
Teeling Whiskey
There are over 30 working distilleries in Dublin so that would make the list of whiskeys from Dublin quite long.
While we are not going to list every single one of them, it's important to mention another one: Teeling.
Teeling Whiskey is a bit different from the others. Why? You ask? Because it's actually very modern!
The Teeling Whiskey Distillery was established in 2015 by Stephen Teeling and is the first new distillery in Dublin in over 125 years.
This is pretty amazing!
The distillery produces a variety of whiskeys, including single malt, blended Irish whiskey, and bourbon.
Many of the whiskeys produced won awards so it's well worth trying them.
Please note that the Teeling Distillery is open to the public which means you can go to visit and taste the different drinks!
Boxty Pancakes
Boxty pancakes are a traditional Irish cake made with potatoes.
For full disclosure, it's important to note that boxties are actually not from Dublin itself but they are a staple of the Irish cuisine and since you will find them everywhere in Dublin, it's important to mention them!
Boxty pancakes are also very similar to the more popular potato cakes you can find worldwide, for example in Germany (Kroketten).
You can find them served with different fillings or toppings. For instance, they are often served fried with smoked salmon or even bacon.
They are a traditional peasant dish and that's actually where the name came from. Boxty comes from the Irish "arán bocht tí" which means "poor-house bread".
WHERE TO EAT BOXTY PANCAKES IN DUBLIN?
The best place to eat boxty is at the Boxty House. It's located near Bancroft park, in the south of Dublin.
If you are staying in central Dublin, then The Gallaghers Boxty House will be much more convenient since it's in Temple Bar.
Irish Breakfast
It would be impossible to talk about typical food in Dublin without mentioning the Full Irish Breakfast!
If you've been to England before, you should be pretty familiar with this type of hearty breakfast.
A full Irish breakfast is made of bacon, sausage, black and white pudding (reddish sausage), mushroom, tomato, fried eggs and boxty pancakes.
Very often you will be given a bit of soda bread as well.
Basically, it's a great way to try out several Dublin famous foods at once!
It's also important to note that besides being delicious, a full Irish is very filling and quite cheap. This means that if you are on a budget, it's a great meal to get.
You can start your day with a full Irish and have a light lunch.
WHERE TO GET A FULL IRISH BREAKFAST IN DUBLIN?
You will find this type of breakfast in most cafés so don't hesitate to just walk in and order. You can't really get it wrong but if you really want some recommendations, here are a couple of places you can check out:
The Bakehouse Bakery and Eatery
O'Neill's Pub & Kitchen
WUFF
Best Food tours in Dublin and activities for foodies
Now that you know what all the Dublin dishes and drinks are, it's time to talk about the best activities in Dublin for foodies.
If you truly want to experience the best food in Dublin, then you should consider joining a food tour.
Food tours are a great way to discover a city. Firstly, you will be with a local guide who will take you to the best spots and eateries.
No need to spend hours scrolling through TripAdvisors, these guys already know everything!
Secondly, they will make you try traditional dishes as well as more surprising ones.
It's a great way to also understand what Dublin is really like for locals.
People in Dublin love Irish food of course but they are also influenced by international cuisines and that's what you get to discover in these food tours.
Finally, the guides will also tell you loads of stories and facts about Ireland. It's super interesting!
Food tours are a bit more expensive than classic walking tours but that's because food and drinks are included.
But if you think about the price for a minute, you'll see that it's well worth the money. It's actually a lot of bang for the buck!
Here are some of the best food tours in Dublin and tastings:
We hope you enjoyed discovering traditional Irish food in Dublin. Now is time to go and explore!
You may also be interested in: