The world is filled with exciting places to visit. Tasmania is one of them! 
From nature to modern infrastructure, there are a million things that you can do in Tasmania! 
When you're visiting Australia, Tasmania is one of its most beautiful islands to go to. You have the option of doing so many things considering the wide array of activities available for you. 
While in Tasmania, you have the option to camp, fish, hike, swim in the ocean, eat different cuisines, experience different old heritage sites, and more. Surrounded by the water and wilderness, you'll find yourself short of time for the abundance of activities there are to do on this island!
You'll find yourself with many things to do in Tasmania. If you stop in Hobart, you're not restricted to only going to different clubs and restaurants as the city holds a lot of different activities. Whether you're an adventurer or like to relax at the beach, Tasmania has a lot in store for you. 
Personally, I didn't get the chance to go to Tasmania when I was in Australia. It was one of the things I wanted to do the most, but in the end it was decided otherwise.
That said, I can't complain really, there are things I wanted to do and didn't and things I didn't want to do and ended up not only doing them but loving them (like the red centre for example). 
Regardless, I thought I'd put an article together with the list of things to do in Tasmania!
So, ready? Let's discover what to do in Tasmania.
Cradle Mountain
If you're one for hiking and wish to be surrounded by the wilderness where you experience something completely different, then Cradle Mountain is the place to be. With beautiful tracks such as the Lake Dove Walk, you'll get an amazing view of the entire mountain. If you wish to hike up to the summit of the Cradle Mountain, then you're going to find yourself living a dream as you take in the view from the peak of the mountain. A must-do in Tasmania!

Hobart
Hobart is the capital of Tasmania. No matter what, you will make a stop in Hobart. It may be the place where you fly or get the ferry to. But it's so much more than just a harbour city. 
The population is quite low (about 250,000 people) which makes it a very pleasant city for people who don't like the crowds. 
Hobart is surrounded by water as it's located at the estuary of the River Derwent. The best way to explore the city is just to go for a wander and get lost.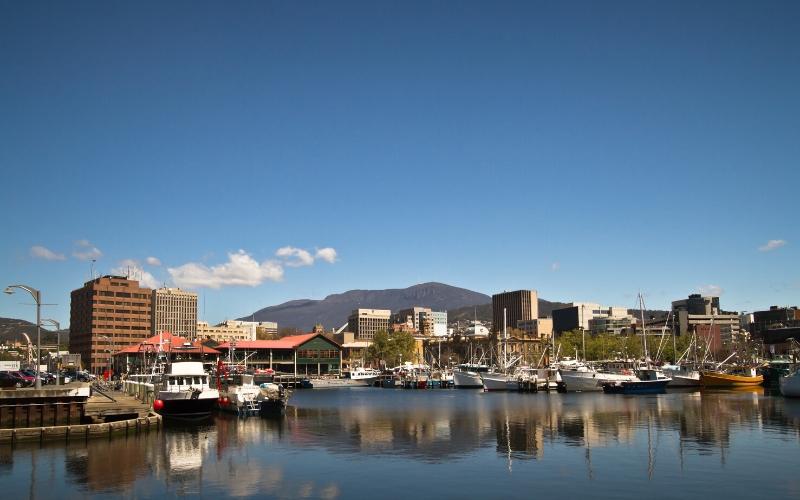 Here are the sights you should check out:
Brooke Street Pier

Salamanca Place

Princes Park

Battery Point

St Georges Church

St Georges Terrace

Wrest Point Casino

Sandy Bay Village

Cascade Brewery

Female Factory

South Hobart Village

Village Cinema

Hobart CBD

Tasmanian Museum & Art Gallery and Maritime Museum of Tasmania

Hobart Convict Penitentiary

Aquatic Centre

Royal Tasmanian Botanical Gardens

Victoria Docks
You can also choose to go on the Hop-on Hop-Off bus. It will bring you to all these places! 
Alternatively, there are also some kayaking tours! If you fancy doing something different and exploring the city from the water. 
Hobart is also a great starting point from many day trips including Bruny Island (but we will get back to that a bit later down in the article).
Launceston
Launceston is the second biggest city in Tasmania. Located at the north of the island, it is one of Australia's oldest cities. You will find in Launceston way more European influence (brought by the first settlers) and therefore more historical buildings as well. 
As a matter of fact, the city was named after a UK city in Cornwall. Like many others in Australia including Perth!
Launceston is a bit more of an adventurous destination than Hobart. 
You can discover the city by foot or by going on a walking tour (you know I love my walking tours!). But it will also be the perfect starting point for many day trips such as: 
– Day trip tour to the Craddle Mountain
– Balloon Flight 
– Zipline
– Wineglass bay day trip
and many more!
Hobart's Salamanca Market
Salamanca Market takes place in Hobart which is the central location of the Tasmanian island. On the River Derwent, you'll find this the ideal place to quench your thirst for adventure. The market is situated in one of the heritage sites of Salamanca. It is one of the most popular things you'll find in Hobart. It is also known to be Australia's most diverse market places, enriched with culture. 
Being Tasmania's most famous tourist attraction, based on what it offers to its visitors, you'll find a collection of items in this market that takes place every Saturday. With over 300 stalls, you're sure to be overwhelmed by the number of things that this marketplace has to offer. 
Mount Wellington
Towards the western part of Hobart lies Mount Wellington. It offers visitors a wide range of activities. Whether you're into camping or hiking, this place is sure to be the one for you. There's a road that leads to the Pinnacle on the mountain. Once you reach this point, you're sure to find yourself in the presence of a breath-taking view. Not only will you see the beautiful Derwent Valley in all of its glory but you will also get to see other breath-taking views of all of Hobart. You can easily plan activities such as rock climbing, biking, and hiking to satisfy your thrill-seeking, adventurous soul. 
It's one of the best things to do in Tasmania!
Freycinet National Park
This national park is considered one of Australia's oldest natural reserves. It's filled with beauty the moment you take your first step here. With the beautiful and crystal clear water running, you can enjoy a quick swim there. The white powder sand and the beautiful surrounding is the perfect place where you can head down to and enjoy a nice day at the beach.
The beach resort within this national park, called Coles Bay, is one of the most renowned resorts in Tasmania. From there you can go on different tours and cruises to observe nature, wildlife and have a swim in the crystal clear waters. If you want to give it a go to a day cruise, you can check out this one on Wineglass bay.
If you ever go exploring to Australia, then the Freycinet national park is a must go! Hike along the trails set out for you or take a little walk along the beach, you're sure to have a great time. 
Port Arthur
Port Arthur is home to a lot of activities. This historical landmark is known all over the world. It was famous for being a penal colony and overtime it has become an open museum to a lot of tourists from everywhere. You can get a short or long day tour of the entire settlement by booking it in advance or you can go there by yourself and see the historical site on your own. The ruins are considered one of the most important historical sites that are still intact. 
Visit this historical site to get to know more about Australia's history and how it dealt with the convicts. Moreover, there are exciting tours at night that are filled with ghost stories that will surely keep you on your toes at all times! If you're up for a thrilling adventure, then this is the place to be!
Richmond
If you're into visiting historical places, you should definitely head to Richmond. With deep historical connections, this place is sure to make you want to sit and take the view in. The Richmond Bridge has a significant attribution to it as it was considered one of the most important military posts of Australia and holds a lot of value to the locals. Tourists come here quite often to view this old bridge that was considered one of the greatest constructed bridges of that time. You can also easily head to different parts of Richmond where you can spend the day looking at animals up close. Kangaroos and koalas are commonly found here and are considered extremely friendly!
Mona Museum and Art Gallery
Less of an adventurer and more into history and art? Mona Museum is just the spot for you. It's no ordinary building because as soon as you'll look at its structure, you will fall in love with it. Inside the museum, you'll get to witness a lot of different forms of art that are sure to make you think. With portable devices that provide commentary on each item at the museum, you'll get to learn about them easily. However, if you feel like you are getting bored, there are other things that you can do as well at this museum! Your entertainment at this museum and art gallery isn't limited to just viewing art, but you will also get access to a great restaurant and library. These are additional perks that you get for spending your time at the museum. 
Mount William National Park & Bay of Fires
The Bay of Fires always seemed to me to be Tasmania's most stunning natural wonder. 
Located on the edge of Mount William National Park, in the North-East of the island, the Bay of Fires goes from Binalong Bay to Eddystone Point. This bucolic conservation area offers a mix between crystal clear waters, white sandy beaches and unique orange granite rocks. 
If you want to be in perfect harmony with nature, this will be your heaven. There are so many things to do in Bay of Fires such as camping, bird watching, fishing, swimming, surfing, walking, boating and working on your tan!
It's also an amazing place to go snorkelling!
There are many hikes available and I highly recommend you to go for walks as it is always the best way to discover a place!
If you wonder where the name comes from. It was named by Captain Tobias Furneaux who saw Aboriginal fires when he sailed past in 1773. 
If you don't have a car and want to see the bay of fire, you will need to go on a multi-day tour like this one. 
West Coast
Tasmania's west coast has one of the most exciting places to visit. Walking on man made bridges at the Montezuma falls or taking a look and observing the Tasmanian devil, you've got your day set out for you! The Montezuma falls is known to be Tasmania's largest waterfalls that have a variety of pathways leading up to it. The waterfall being almost 11 km long, it takes more than two hours to hike up to the top. The trails are not that tricky so anyone, accompanied with the right gear, can go ahead and start hiking up to the waterfall. 
Another waterfall that is listed under UNESCO's world heritage is the Nelson Falls. With its unique pattern of rock placement, it creates a beautiful look. Anyone who sees it is sure to be mesmerized by its beauty. If you look from afar, you'll see that this waterfall looks like an upside-down wine glass! Wouldn't you want to witness this in person? 
Tasman National Park
Tasman National Park is considered a natural beauty with its beautiful rock formation near the coast. You can take a stroll towards the cliffs and see the spectacular views from there. It is also the perfect place to grab your fishing gear and head fishing as you're sure to get a good catch. 
Hike up to the cliffs or drop by there using a car to see the beautiful landscape that it offers. Another favourite activity to do in this national park is to go bird watching. With a multitude of birds flying up in the sky, you're sure to see tons of different breeds. The Tasman Arch and the Blowhole are the distinct areas to go to when visiting the Tasman National Park!
Bruny Island
Close to the island's capital stands the Bruny Island that is popular for the variety of food items available along with the natural disposition of the island. With only an hour away from Hobart, you will be treated to a multitude of different forms of seafood, cheese, and berries. One of the most prominent items to eat are oysters served by the Get Shucked oyster bar. They are known to provide the most delicious oysters you can taste!
You'll find lots to do and see with beautiful parks all around and animals that appear on the land. Make sure to take a lot of pictures to save memories and show to your friends and family of all the great wonders you saw on this Bruny Island. 
There are many tours that leave from Hobart to Bruny Island everyday. They generally cost between 100 AUD and 150 AUD. You will get to see the lighthouse, cheese and oyster producer… and much more!
This day trip is a must do, whether you chose to do it on your own or with a tour. 
If you wish to book a tour to Bruny Island, here is a full list of options.
If you find yourself in Australia and are thinking about what to do in Tasmania, then these are a very good start! With a wide variety of activities available, you can do plenty in any given location. Whether you're travelling solo, with friends, or with family, you can head to all these destinations in Tasmania and have the time of your life!
Tasmania is a beautiful place and has been well preserved through the years. I hope you will enjoy these things to do in Tasmania. Don't hesitate to share with us your tips too!
Pin it for later!